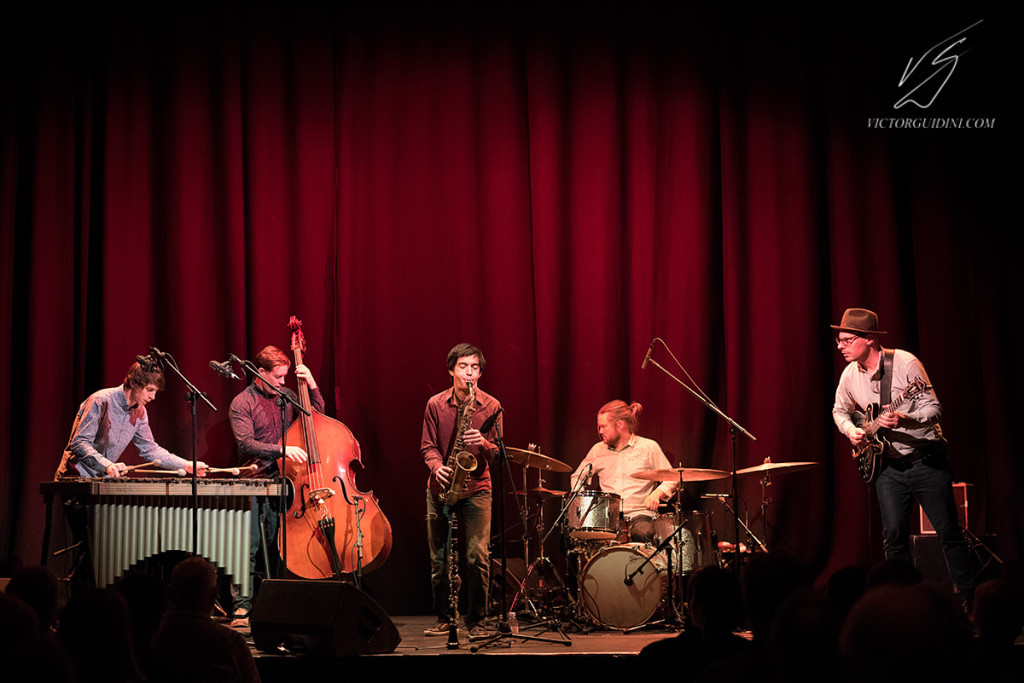 I'm really excited to be coming back to the UK again one week today to start the 2nd half of our UK winter tour with Cloudmakers Five. We had two fantastic weeks in January playing every night to great crowds and got an amazing response. For those who missed it the group is an expansion of Cloudmakers Trio featuring Michael Janisch on Bass, Dave Smith on drums and myself on vibes. In this 'Five' line-up we are joined by Austrian Guitarist Hannes Riepler and French Alto sax and clarinetist Antonin-Tri Hoang.
After a month of all busily being involved in other projects we are coming back to do another week and pick up where we left off. I'm very happy that amongst the run of dates we have two two-night residencies, something which is becoming quite rare these days. We will play the Jazz Bar, Edinburgh on the 8th, which will be just the trio playing music from our album Abstract Forces and 9th march, which will be with all five and will be preceded by a workshop at the club. From there we will go directly to London to play two nights at the Vortex Jazz club in Dalston on the 10th and 11th when we will be recording a live album. We have done two live albums already with Cloudmakers and I really love the energy that gets captured through doing so. I can't wait!
The full list of dates for the tour are as follows:
March
6th – Ronnie Scott's, Late Show
7th – Watermill Jazz, Dorking
8th – Jazz Bar, Edinburgh (Trio)
9th – Jazz Bar, Edinburgh (Five + workshop)
10th – The Vortex (live album recording)
11th – The Vortex (live album recording)
12th – Herts Jazz, Welwyn
Here's what a couple of people said about the music:
"They were individually and in combination electrifying…The quintet are individually top drawer players. Hart's writing and their empathy meshes them into a formidable unit." – Mike Collins, jazzblogman
"This music is more clearly about group interaction and I noticed that despite the sometimes mind bogglingly complex nature of the material none of the musicians were sight reading, something that suggested that a high premium was being placed upon musical risk taking and the improvisational process." Ian Mann, thejazzmann.